The MCerberus® MCB-900 Series is the Pool Water Filtering monitoring system that can be installed in fifteen minutes on home or business swimming pools.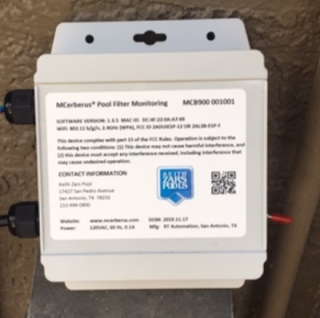 The System is designed for the Homeowner and/or Contractor who may require the capability to monitor the current state of their Pool Water Filter. Our Back office software analyzes the data obtained and stored by the hardware unit and determines the current state of the Pool Water Filter. Our iPhone (and soon to be release Android app) provides a real time status of the installed system as well as historical results from the last seven (7) days.
Pricing of the MCerberus® MCB-900 Series System (Hardware and Software) starts at $295/unit. Contact us for dealership opportunities which provide exclusive territory assignments as well as Contractor pricing.
OVERVIEW
Learn more about the MCerberus® Pool Water Filter Monitoring System by watching our Youtube video.